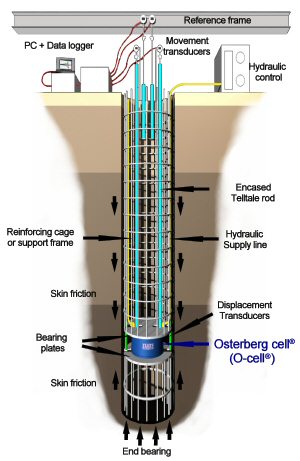 The award winning Osterberg Cell®, or "O-Cell®", gets its name from the inventor, Dr. Jorj O. Osterberg. The O‑cell is a purpose built hydraulically driven, high capacity, sacrificial loading device installed within the foundation unit. As pressure is applied to the O‑cell, it begins working by loading in two directions; upward against upper skin friction and downward against base resistance and lower skin friction (if applicable).
By virtue of its installation within the foundation member, the O-Cell load test is not restricted by the limits of overhead structural beams and tie-down piles. Instead, the O-Cell derives all reaction from the soil and/or rock system and the foundation element itself.
Each O-Cell is specially instrumented to allow for direct measurement of the O‑cell's expansion. By measuring the top of shaft movement and compression, the upward and downward O-Cell movement is determined. Strain gauges are often used to separate stratigraphic zones. Loadtest provides a detailed data report containing tables, graphs, calibrations, detailed description of the tested element and subsurface. Graphs include load and movement data, t-z and q-z plots, strain gauge load distribution and an equivalent top load plot.
O-Cells range in capacities from 0.7 MN to 27 MN (200-6000kips). By using multiple O-Cells on a single horizontal plane, the available test capacity can be designed to obtain virtually any load. By utilizing multiple O-Cells on different planes, distinct elements within a shaft or pile can be isolated for testing. Using the O-Cell, Fugro Loadtest has elevated the application of deep foundation load testing, from expensive, time-consuming, small scale field tests to state-of-the-art, short-duration, full scale load testing of production piles and shafts.
Patents US 7,353,714; US 2,006,021,446; US 8,443,677; US 8,511,176;